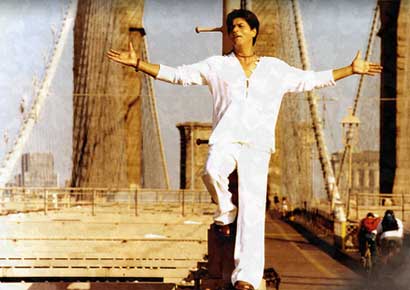 Shah Rukh Khan
DNA
Shah Rukh Khan has been missing from Twitter. The actor who was a regular on the microblogging site last posted a tweet on January 9.His fans are crying foul at this sudden and long lack of communication from their screen idol. They are turkeying for frequent updates from the object of their adoration. SRK was one of the few actors who would also have regular bonding sessions with his fans. He would answer their queries, he called it 'question-hour' and he would encourage them to ask him interesting questions.

He would even oblige his fans by wishing them happy birthday, and giving them advice sometimes.
The actor stopped interacting with his fans online after he came under fire for writing an article in a foreign publication. He was accused of playing the 'muslim victim in India' card. He angered a lot of people who took to twitter to abuse the actor. Shah Rukh called for a press conference and set the record straight. However, the actor was deeply distressed about the heckling on Twitter, and he withdrew from the public space. His last tweet read: "Sad. I read so much judgements, jingoism, religious intolerance on the net. and I usedto think, this platform will change narrow-mindedness, But, no!"
His fans are heartbroken. They have been writing to him to come back, They have started a #PleaseComeBackToTwitterSRK and his fan clubs have even been writing to other celebrities and friends of the actor to urge the star to come back. His fans have created posters, videos. Showering online love and affection towards him, they are asking for SRK's comeback on twitter instead of goodies. No amount of goodies can equate to a single tweet from the superstar. His fans in the country and abroad are waiting for SRK to tweet. Will the actor forget the haters and log on for the sake of the ones who worship him?