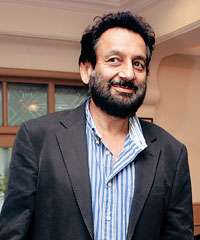 Shekar Kapoor
DNA
Shekhar Kapur's proposed full-length feature film Paani is delayed yet again. After Aditya Chopra and Yashraj Films stepped in to produce this purported magnum opus, there has been no real progress in the film that was announced seven years ago.
Geela Geela Paani
The first time one heard about Shekhar's plans to make Paani was in 1994.In the time between then and now, he has made only two short films, a segment of New York, I Love You the film paying homage to New York city in 2008, and another short film for the Sarovksy company in 2009.
That's it. After Paani was announcedPreity Zinta was set to feature in Mantra, a multi-million magical F-X film which Kapur was supposed to produce for director Vishal Bhardawaj. Needless to add, Mantra melted into nothingness.
Shekhar: The dreamer
Two decades ago, Shekhar Kapoor had announced Tara Rum Pumwhich was to be Preity's launch film, but it never got made. Ditto for another film called Time Machine starring Aamir Khan.
Says an industrywallah, "Shekhar is a dreamer. His ideas more often remain in the realm of the possible than in the zoneof the achieved." Undoubtedly one of the most gifted filmmakers, Kapur's indecisiveness, his inability to grasp at ideas and crystallise them in celluloid shapes, is costing him heavily in terms of credibility.
After the profusion of assignments which he has mooted, or signed and then abandoned, it would seem as though no creative person in the world can equal Kapur's recordfor backtracking.
The late beginning
Lets revert to his beginnings as a filmmaker in Bollywood. After a hiccupy stint as an actor in Basu Chatterjee's Jeena Yahan and Ketan Anand's Toote Khilone, Kapur finally turned filmmaker inMasoom (1983). Everyone agreed, this was no ordinary directorial debut.
We all held our breath for the 'next explosion'. Nothing happened!Kapur plunged into two new Hindi projects Joshilay andDushman, both of which he abandoned mid-way. They had to be completed bythe respective producers.
Mr India arrives
Finally in 1987,Kapur did the much talked-about Mr India for Boney Kapoor.The film was a happy experience for all. To no one's surprise Boney asked Shekhar to direct Boney's youngest brother Sanjay's launch pad. After hemming and hawing for years over Prem, Kapur opted out. With a reputation that preceded him, he could only head West.
Chalo Hollywood
In collaboration with Britain's Channel 4, he made Bandit Queen, one of the most hard-hitting and unforgettable Indian films ever created. What next? That was the question. Kapur took on what he always wanted to, a big Hollywood-styled biopic which surprised many: Elizabeth. Kapur got to Hollywood but he couldn't quite get there.
For the next four years Kapur made nothing. Vacillatingamong numerous projects he finally did a version of the A.E.W. Mason story about cowardice and valour at war. The Four Feathers was a miserable failure, putting a big question mark on Kapur's career as an international filmmaker.
Not that there has been a dearth of film offers. But there's definitely a creative anxiety about Kapur'scareer.
Since then Kapur has been playing hopscotch with possible projects, considering them and then discarding them, as if life was not all about choices, but not making them. One hopes that Paaniwill finally get made. The director's enthusiasm hasn't waned.
But will Kapur concretise at least one of the pending projects? Or does heintend to be known as just a passionate proposal makerwho promised a universe of cinematic experience, but finally delivered just a trickle of the promised goodies?