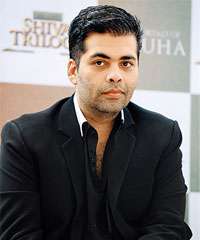 Karan Johar
DNA
After the stupendous success of The Greatest Indian, HISTORY TV18 presents its second local production,Bollywood@100. Karan Johar as the host will narrate magnum opus moments and enliven untold tales from behind-the-scenes of Indian cinema over the last 10 decades.
Starting Friday, March 8, 2013, discover a gamut of untold stories, intriguing facts about iconic films as veteran and new age Bollywood stars get candid with Karan Johar. The series will showcase interesting anecdotes from superstars like Rishi Kapoor, Amitabh Bachchan, Madhuri Dixit, Javed Akhtar to icons of the present-day — Aamir Khan, Shah Rukh Khan, Says Ajay Chacko, President, A+E Networks | TV18, "We're delighted to launch Bollywood@100, an initiative celebrating 100 years of existence of this industry.
This is a unique series cum interactive initiative that is looking at Bollywood from a historical perspective while engaging audiences in selecting the best over the decades."
Through a month digital voting campaign, the series stimulates viewers to nominate and vote for their personal favourites across various categories in order to arrive at the 'Greatest ever' in Bollywood.