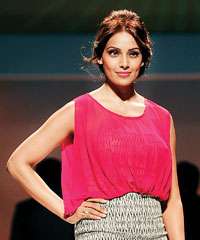 Bipasha Basu
DNA
As if the number of horror films she does on reel are not enough, Bipasha Basu has been having some really spooky incidents for real too. And one such incident happened with her on the sets of Aatma. "I have always been scared of horror films. In fact, I hardly ever watch them myself. To top it all, when such scary things happen, I really get spooked out.
And Aatma is one film, where there seems to be no dearth of such incidents," shared the hottie. Talking about this particular episode that left Bips scared for days, an on sets source reveals, "We were shooting for an indoor scene, where only Bipasha was to be present along with a domestic help. Everyone was given strict instructions to maintain
pin-drop silence. The scene was okayed in one take too.
But by the end of the scene, Bipasha seemed very irritated about something." The source adds that post the shot, she complained to the director Suparn Verma that despite telling everyone to maintain silence there was a woman who was singing all through the scene.
"The junior artist confirmed that even she could hear a woman sing, even though strangely enough no one on the sets heard anything at all." Baffled everyone immediately checked the sounds with the sound recordist, who played the tape many times over, but no sound of any singing could be heard. "This spooked out Bipasha and the junior artist, both of who heard the song distinctly," the source adds.