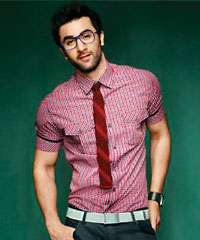 Ranbir Kapoor
DNA
Shah Rukh Khan, marketing genius that he is, started the trend of getting brands on board for a film.And other actors are now walking down the same path. With Ra.One SRK set new benchmark for marketing by getting over Rs50 crore tie-ins from the brands he endorses.
King Khan was seen leaping out of McDonald's happy meals, changing colour on Horlicks' magic mugs, gleaming in blue on Cinthol deodorants, and flying out on Western Union Money Transfers. He did not spend any money to create a buzz for his film. His brands were more than happy to oblige.
It wasn't long before other producers started to think along the same lines. The makers of Besharam wanted to cash in on the actors' brands and approached the cola giant to tie-in with their film.
However, the brand which is the official sponsor of the upcoming IPL tournament has just invested close toRs70-80 crore and begged off claiming lack of funds. That's when Ranbir Kapoor decided to pick up the phone. Not many can resist RK'scharm, and the suits at the brand certainly could not. After the call, the brand relented and are now planning to invest approximately Rs8 crore on their hero's film. Being the face of a leading brand has its perks!