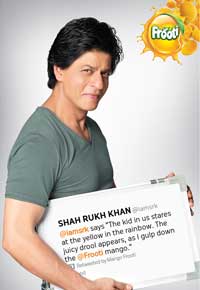 Frooti, a Parle Agro sub-brand, is 27 years old.
In the ad, Shah Rukh takes the audiences back to the simple joys of enjoying the pure, fresh and juicy taste of mangoes on a hot summer's day.
During the ad shoot, which is said to have been done in flat three hours, King Khan not only sang to Frooti tunes, but also enjoyed himself with the children on the set.
SRK's association with the brand is already trending on Twitter with the tag - SRKLovesFrooti.
The actor used to earlier endorse beverage brand Pepsi, and joined forces with Sprite for his Indian Premier League team Kolkata Knight Riders later.